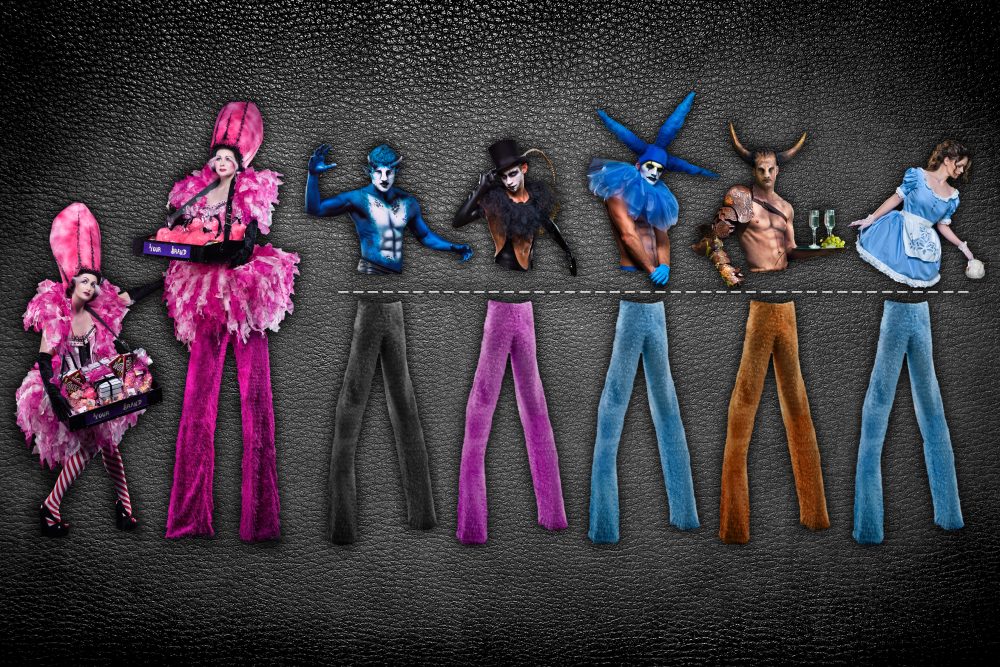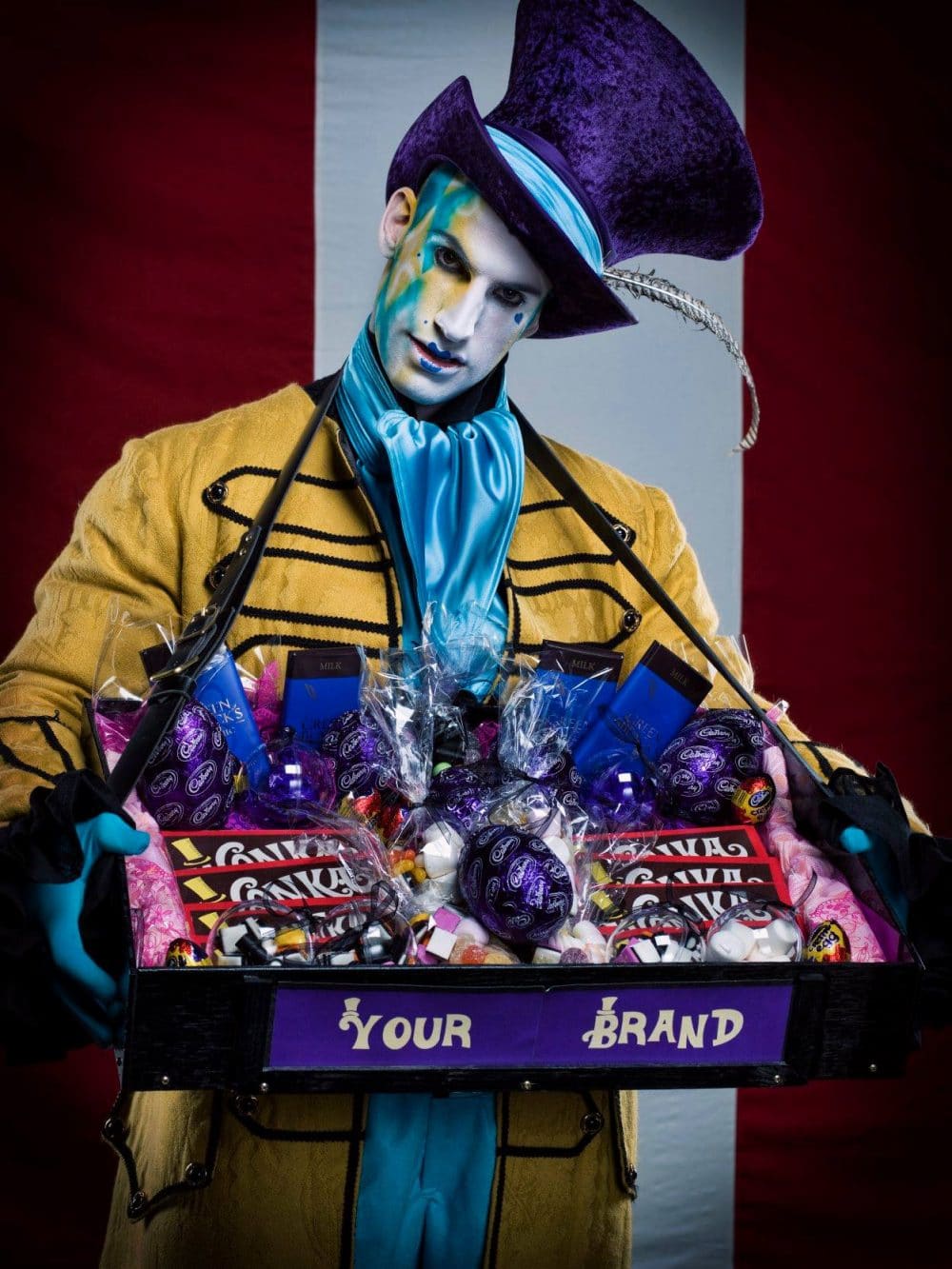 In addition to being able to being converted into stilt walkers, they are also available to be converted into living champagne reception tables and vintage candy usherette hosts with branded trays.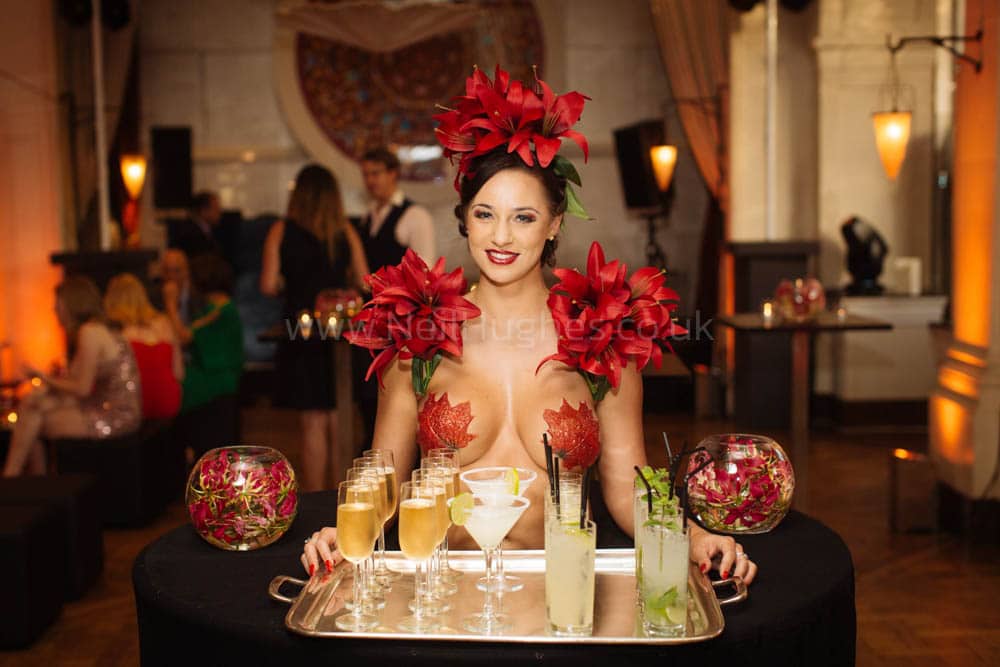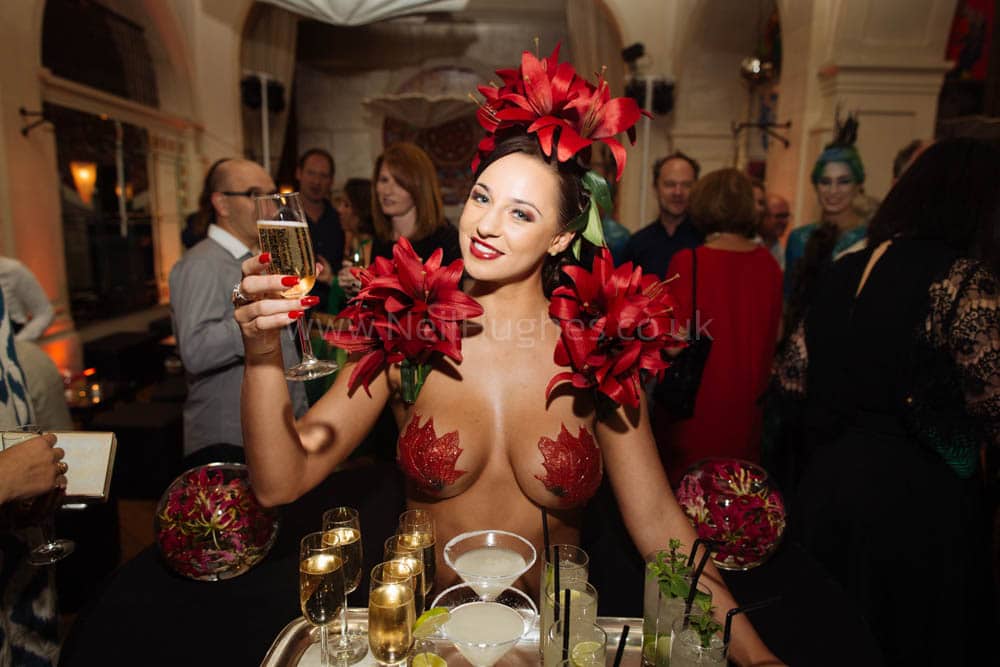 Hire / Book Stilt Walkers
For entertainment that is literally heads above the rest you can hire stilt walkers. With their wonderfully bespoke costumes that catch the eye and their astonishing grace on stilts, these performers always prove to be a hit at all types of events. If you hire stilt walkers they can roam around your event, providing some brilliant photo opportunities and working as a great ice breaker at corporate functions. Whether you want some intriguing characters to fit in with an enchanted forest theme or are after some vibrant LED stilt walkers to light up the occasion. We have an excellent array of stilt walkers to hire for a remarkable event.
The Benefits of Hiring a Stilt Walker 
Stilt walkers have been a staple of event entertainment for years, there are many advantages to hiring stilt walkers to roam around your event. Here are some of the brilliant benefits of having a stilt walker at the special occasion:
Due to their stature and size they can tower above crowds making them the perfect option to keep an eye on those arriving and welcome them to the event, directing them and making an excellent first impression.
Their height also works as a fantastic way of grabbing attention, drawing in people who can see them from a way away.
With their beautiful bespoke costumes and vibrant colours, a stilt walker is also a popular photo opportunity, with many guests eager for a picture with them.
As well as proving popular for picture with guests, a stilt walker is often caught on camera by the media and works well at portraying the event in a fun and exciting light.
Hire Stilt Walkers from our Roster 
If you are looking to hire stilt walkers to thrill the crowds then we have a wonderful roster of dynamic and interesting characters and creatures to choose from. Whether you want to hire stilt walkers to make a magical first impression for people entering a festival or are looking to excite the children at a family fun day, you are sure to find the perfect stilt walker from our extensive roster. All our stilt walking characters are amazing performers that will wow guests at any event, large or small. Here are just a few of the stilt walkers to hire from our books:
Hire Living Tree stilt walkers  – Oberon and Titania are enchanting creatures adorned in flowers with moss they are a brilliant choice for any outdoor event, adding a spellbinding and magical sense to the occasion. Perfect for enchanted garden parties and lord of the rings & Harry Potter themed events.
Hire stilt walkers With a variety of striking outfits at our fingertips this we can add magic to your themed event by creating an array of different characters that the crowds will love, from Day of the Dead skeletons to birds of paradise.
Hire Stilt Walkers
You are sure to make your event one to remember when you hire stilt walkers, their impressive appearance and amazing balance always proves to be a hit with guests. As a top entertainment and costume agency, we can supply with you a perfect tailored stilt walker that suits your event. Just get in touch with any enquiries about hiring stilt walkers, we would be delighted to help make your event a spectacular experience.
Book Living Tables
The living tables make a unique centre piece at any corporate event or private party, choose from a range of fabulous characters or let us know of any theme, specific idea or colour scheme you would like to see at your function! The tables will entertain in the character of your choice, create an exciting buzz and meet and greet your guests on arrival with their first cocktail or appetiser of the evening.Other ideas to serve: wine, hors d'oeuvres, dessert, favours, party bags, name tags, promotional materials or whatever else you like. Virtually any stilt character can be transformed into a living table, given enough time anything is possible. There are two tables for each character, available as a pair or individually.
Hire / Book Walkabout Food and Drink Entertainers
For a truly delicious immersive and interactive experience at your event you can hire walkabout food and drink entertainers. These entertainers can mingle with the guests and go around offering up some tasty food and drinks. Walkabout food and drink entertainers are is the perfect option at corporate networking events as you guests can keep the conversation flowing and the appetisers will come to them. Our range of entertainers also come adorned in brilliant costumes and clever contraptions that work as an excellent talking point. Whatever your event, if you hire walkabout food and drink entertainers, they will keep the event in full swing and look great as they offer round the delectable delicacies and drinks.
What is a Walkabout Food and Drink Entertainer?
Walkabout food and drink entertainers are a type of waiter or usher who walk around the event serving up any canapes or drinks, usually with an added twist that makes it all the more engaging and unique. There are many types of walkabout food and drink entertainers such as human canape tables, dressed champagne tables or comedy characters who can add some extra hilarity to the proceedings.
What is a Dressed Champagne Table?
These clever dresses combine elements of practicality with glamour, with the skirt of the dress being modified to hold a plethora of champagne flutes that the wearer can hand out.
The beautifully designed dresses always look great at any event with the champagne adding an extra special surprise.
Hire body painted Walkabout Food and Drink Entertainers
If you hire walkabout food and drink entertainers your event is sure to be a fabulous success.
Walkabout food and drink entertainers provide some atmosphere and warmth at any occasion, whether its in the form of some quick-witted humour or some striking costumes their ability to engage with the crowds makes for a memorable event. If you are looking for an original and unexpected way to entertain your guests hire walkabout food and drink entertainers, who will not only serve your desired appetisers but also work as a great conversation starter. Here are just a few of the walkabout food and drink entertainers on our roster:
Hire walkabout food and drink entertainers In the Buff – For a risqué and humorous option these muscular men can be hired to serve food and drink with revealing outfits and tons of charm.
Hire Walkabout Food and Drink Entertainers
For a sensational event that will impress your guests you can hire walkabout food and drink entertainers to serve your food and drink in style. We have a dynamic roster of talented performers and creative contraptions that put a fun spin on the traditional role of a waiter or waitress, adding some extra flair and charisma.
We are a top entertainment production and costume agency that are passionate about providing you with some amazing entertainment and tantalising food and drink that all your guests will love. If you would like to hire walkabout food and drink entertainers just get in touch; we are happy to help you with any enquiries to put on a spectacular occasion.